Founded under the umbrella of VIP Education Group, VBest Tuition Centres implement the same tried and tested teaching philosophy that has fuelled the success stories of many students.
Here at VBest, we believe that strong educational foundations will open doors to countless opportunities for your child, and propel them towards success in their desired field of study. By instilling a passion for acquiring knowledge rather than generic textbook learning, your child's learning experience becomes more engaging and enriching.
At our tutorial centres, your child's educational needs are of our highest priority, and the flexibility of our teaching philosophy can cater specifically to learners of every kind. We want to make sure that they fully explore their highest potential from Year 1 to Year 12, and to reflect upon their learning with depth.
The Founder 
With 2.8 million+ hits on his educational websites and an entrepreneur of many budding businesses, the CEO of VBest Education alongside its many related ventures is one of the strongest advocates for quality education in Malaysia and beyond. Hailing from an era of hardship where education was considered fruitless, he removed himself from companies and partners that do not share his passion and belief that a student's journey should be enriched with guidance from the right teachers, for a good teacher could guide a student to good grades, but an excellent teacher would guide students towards a good life. That is the core principal that drives his decisions, and now Mr Sai Mun is a proud leader of at least 15 prestigious branches that are spread throughout Malaysia, with a family of exceptional teachers to help execute his educational vision.

Principal's

Message
While necessity is an instinct to do what needs to be done and survive, passion, however, is an inborn aspiration that is known to motivate a person to succeed in life, and it is the key factor of why successful people stand out in what they do. Students lack the confidence to score in what they deem uninteresting as they are pressured by necessity than feeling inspired by the passions they have yet to find. Thus, VIP teachers are trained to deliver skills that ignites students' interest in the subjects and build up their confidence to score in examination as proven by the countless students that have graduated under our wing. Here at VIP, we aim to help students achieve whatever their minds can conceive.
"Whatever your mind can conceive and believe, you can achieve!"
Mr Austin Lau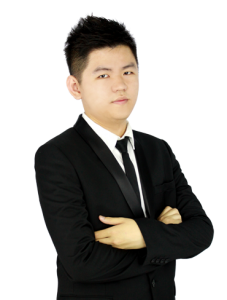 Vice Principal's

Message
One of the most important decisions that any family makes is the school they choose for their children's education. Education is not just a process of providing knowledge for a future job but it is also a lifelong process which creates an understanding of moral and ethical values to guide one's life and make our students the future pillars of the country.
Here at VBest we offer the best of teaching and learning that has been specifically tailored to meet the needs of our students. I wish to emphasise that the quality of our teachers is of our utmost concern. The process of selection of teachers is strict and through that, we have succeeded in forming professional team of skilled educators. We are deeply committed to continuously training our teachers in the latest pedagogy as well as the methodologies in order to use them to stimulate our students. Parents, students and the school authorities are a team and complement each other's efforts. Here at VBest, we aim to make sure students benefit from learning and develop their skills for the challenges in future.
Mr Jack Liew
We were once students.
We once blamed our teachers for not teaching well
We once questioned our teachers for their poor explanations.
We once accused them of teaching for the sake of money, but not for the sake of education.
Why are so many students baffled that they're not meeting the right teachers?
An idea began to manifest and mature in our minds.
'Why don't we try and be teachers ourselves? After all we were once in the students' shoes.'
And so,
A group of young adults were reminded of their experiences in high school that sparked the idea of becoming a teacher as they were pursuing their degrees.
Their journey started from scratch, and they had nothing except for the continued guidance of their experienced mentor, who has already established a tuition centre since 2003 with around 30 students from public schools, including these few teenagers
After giving the idea much thought, they started to work with their mentor in 2009, as they gave extra classes to the children of relatives and friends alike. It wasn't too long until each of them garnered a lot of experience as well as built up a good reputation for themselves
After 2 years, the number of potential cases skyrocketed, but they can only handle so much without exhausting themselves. They tried to recruit teachers online, but great teachers are hard to come by. However, they kept up the interview process to ensure that the students receive the education they deserve because this is the exact reason they ventured into this field
And thus a team of dedicated teachers were assembled as they began to expand their business to accept students from international schools as well.
In 2014, // (1) they received many requests asking them to discontinue home tuition and move on to starting an actual class instead // (2) many international school students requested that the teachers stopped home tuition and started up a class instead// due to time constraints as well as a limit to the number of students. After discussing with their mentor at length, they decided to open up their own tuition centre.
The centre was opened in the same year, but it wasn't always smooth sailing. Opening a centre also subjected them to extra costs, unlike home tuition, such as rental, bills and even renovation costs. This led them to expend the savings they have amassed over the years in a short period of time.
Back to square one, they began recruiting students from international students, as well as transferring available students from home tuition to the centre.
A few months passed but they're barely making ends meet. Although the students are giving their support, but a student has to graduate eventually. They're also struggling to recruit enough students given their inexperience with running a tuition centre. In these tough times, all of them thought about cutting their losses, to shut down the centre and revert back to home tuition.
Their mentor gathered them and asked them, 'Do you remember your dreams? Do you remember the things you promised yourself? Should you give up now, aren't you throwing everything you did before down the drain?'
Their mentor's words reignited the sparks in them once more, and they started to equip themselves with much advanced teaching methods and technologies. Realising home tuition and tuition centre require separate teaching methods, they devised one unique to themselves. In a few months, their reputation preceded them in many international schools, and the centre began to grow in terms of number of students and teachers alike.
To provide ample help for all their students, they opened up their second branch, third, fourth ... seventh, until the eighth branch opens in 2017.
That tuition centre is VBest Tutorial Centre.
Relying on their fiery passion for education, these young adults managed to make a name for themselves in the field, achieving their aspirations as well as being financially stable.
Their undying enthusiasm has helped so many students achieve their goals.
For that, the students are grateful and the education line is thankful.
The world is a better place with you in it